Our Results
2019 was good year for VodafoneZiggo. Our turnover found its way back onto the path of growth, while we managed to reduce our costs. As a result, the operating cash flow (OCF) increased 4% compared to the previous year.
Strategic focus on satisfied customers
The main focus in our strategy over the past two and a half years is that we have concentrated on offering our customers a combination of Vodafone and Ziggo products. We notice that when customers purchase a combined Vodafone and Ziggo subscription, this leads to higher customer satisfaction and a lower customer reduction. The reduction of customers who purchased a combined product was approximately 75% lower at the end of 2019 compared to customers who only purchased a Vodafone product. As a result, the average customer turnover in 2019 was historically low for both business and private customers, proof that our strategy works.
In addition to our customer-base increase, we saw an increase in customer satisfaction. The Net Promotor Score (NPS), an indicator of customer satisfaction, was higher than ever among our business customers. Vodafone showed an average increase in NPS of +8, Ziggo of +3 and hollandsnieuwe of +12. An improvement in our NPS means that more customers are satisfied with our products and services. This means a lot to us considering we work hard every day on our customer promise: 'enjoyment and progress with each connection'. 

"We further improved our financial and commercial momentum in 2019. Our operating profit, turnover and customer satisfaction grew. I am proud of this. We continue to invest heavily in our fixed and mobile networks, so that we can keep the Netherlands a leader in the future with 5G and Gigabit internet."
Ritchy Drost
CFO
The increase in turnover is the result of the proper implementation of the aforementioned strategy, which means that our customer base is steadily increasing. In 2019, growth in the number of existing and new customers who purchase Vodafone, Hollandsnieuwe and Ziggo products continued. We added 286,000 households and 541,000 SIM cards (customers are able to purchase multiple SIM cards from us) to a total of over 1.3 million households and 2 million mobile SIMs. At the end of the year, 40% of our Ziggo customers also had a mobile subscription with Vodafone and 74% of our Vodafone customers in the consumer segment owned at least one TV and internet product from Ziggo.
Commercially, 2019 was a successful year. The number of customers with a mobile subscription increased by 269,000. The number of households that purchased internet services increased by 45,000. The total number of new Ziggo, Vodafone and hollandsnieuwe customers with a subscription was 237,000. This is double compared to the previous year. Despite the constantly competitive market environment, we have been able to gain market share and thereby achieve turnover growth. Total turnover in the consumer and business market increased by 1%.
With the rollout of superfast gigabit internet, VodafoneZiggo is taking a major step in its ambition to prepare the Netherlands for the digital future with GigaNet (Vodafone and Ziggo's high-performance network). Customers who are connected are able to download at speeds of up to 1 Gigabit per second. Our aim is to make a 'gigabit without digging' available to all our customers throughout the Netherlands in 2021. We believe that a vital digital infrastructure is oxygen for our society and the Dutch economy, which is why we are continuously building the network of the future.
We want the best for our customers and therefore invest a lot in new technology. In 2019, for instance, we launched the Mediabox Next, the video platform of the future. At the close of 2019, some 347,000 customers were already using the Mediabox Next. In 2019, we also opened a 5G Hub in Eindhoven where, together with our partners Ericsson, Brainport Development and the High Tech Campus, we give companies, startups, institutions and students room to guide their 5G innovations from idea and research into practice.
Looking at our long-term investments, over the year we have invested 20.1% of our sales or € 793.2 million in the maintenance, improvement and expansion of our fixed and mobile network. With our Giganet, we can continue as a pioneer in the Netherlands for many years. It is essential that we also invest in the quality of our networks and services for the long term and therefore also expect to reinvest between 19% and 21% of our turnover in 2020 in our products and our services to our customers, making them even better.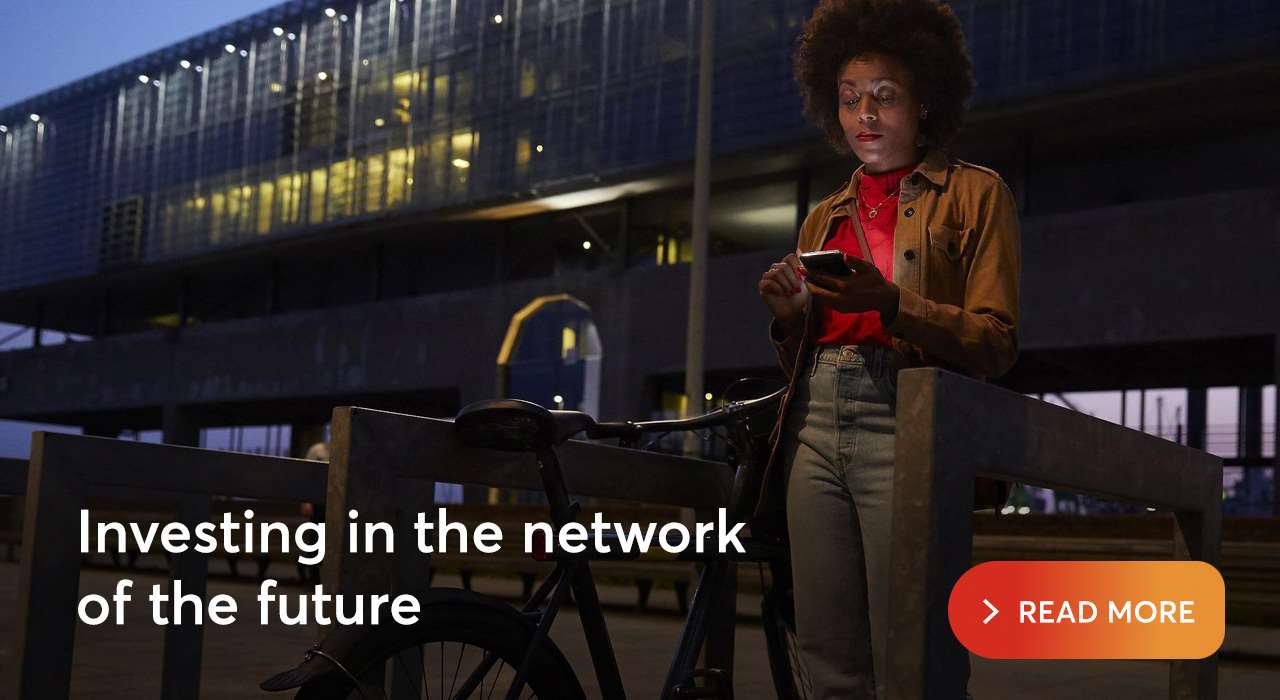 Cost levels declined in 2019, mainly due to a continuous focus on simplifying processes and IT systems, while at the same time focusing more on digitization to optimize services to our customers. The merger of Vodafone and Ziggo is still resulting in synergy benefits. At the end of 2019, we achieved approximately 85% of the targeted cost benefits of € 210 million. An example of this is that we have simplified and reduced our total product price plans by 99% to less than 300. Our organisation has been designed even more efficiently and we are better able to serve our customers at lower costs. 
Owing to favourable financial market conditions, we refinanced € 5.2 billion of our bonds and term loans in 2019, achieving interest benefits and extending the average maturity of our loans.