Technology for Society
We make technology available that enables people to actively participate in civic life. That way, we contribute to the prevention of inequality and social exclusion.
Robots Help Sick Children
Through the 'Companion' project, we help children with a long-term illness to stay in contact with their classmates, family and friends. The children get help from a special robot: AV1. VodafoneZiggo provides the requisite 4G connection and lends twenty AV1 robots to Dutch children, so that they don't become socially isolated. They can follow lessons at school and even virtually play outside. The AV1 robot was conceived by the Norwegian company No Isolation. Stichting Kind en Ziekenhuis (The Child and Hospital Foundation) ensures that we assign the twenty robots effectively. With AV1, the Vodafone Foundation is making an 'Internet of Things' solution accessible to a larger group of children.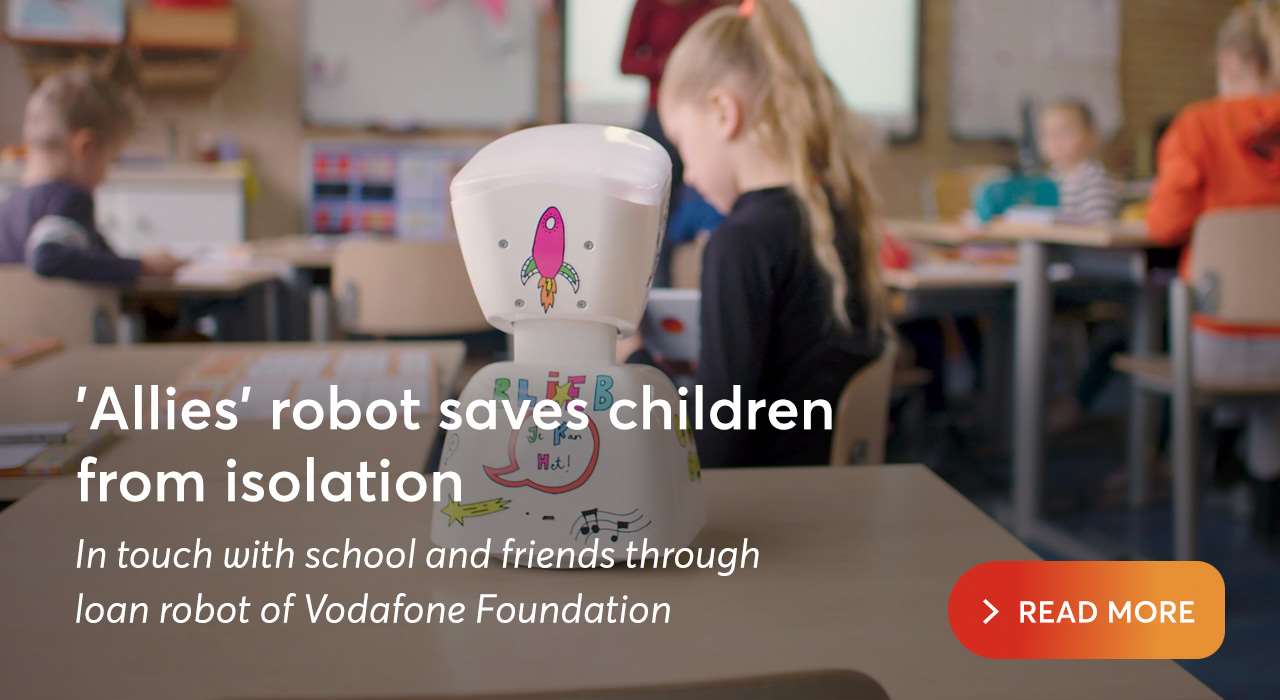 | | | | |
| --- | --- | --- | --- |
| | Target 2020 | 2019 | 2018 |
| Number of 'No Isolation' Robots | 25 | 25 | 20 |
Through the 'Instant Network' program, the Vodafone Foundation makes equipment and people available to build temporary mobile networks in disaster areas. These networks make communication possible for aid workers during reconstruction operations and the population can communicate with each other and the outside world. The volunteer group, consisting of international Vodafone employees, has been mobilised in response to a disaster 13 times in the past five years. They went to Saint Maarten after the hurricane in 2017, Nepal following the 2015 earthquake and the Philippines in November 2013, during typhoon Haiyan. In mid-March 2019, volunteers headed to Mozambique to restore communications after they were devastated by Hurricane Idai.
Pride and tears after mission in disaster area
Products for the Blind and Visually Impaired
VodafoneZiggo received help from people with visual disabilities to improve the accessibility of the websites and apps for this target group. VodafoneZiggo cooperated on this project with Bartiméus, a foundation for the blind and visually impaired, and Accessibility, the expertise centre for the accessibility of IT. Representatives of these organisations entered into discussion with people who are blind, or have other visual disabilities, to hear first-hand what needed improvement. The insights gained were used by Digital staff to create an app that works well for the target group.