Our Portfolio
VodafoneZiggo provides products and services relating to television, broadband internet, telephony and mobile data to consumer and business customers in the Netherlands.
Combining Fixed and Mobile Services
both Ziggo and Vodafone products. They appreciate the fusion of fixed and mobile. Our customers are still taking advantage of our offer for an all-in-one package of fixed and mobile services (non-stop free extra's) more than two and a half years after its launch, and to their great satisfaction. We launched the WiFi Back-up Bundle, offering customers subscribing to both Ziggo and Vodafone a free 50-megabit data bundle in the case that their Ziggo internet connection should temporarily fail.
These customers report far higher customer satisfaction and attrition among them decreased significantly. We see this as corroboration of our strategic focus on combining the provision of fixed and mobile services.
74% of Vodafone customers decided to purchase Ziggo products, too, and 40% of Ziggo customers subscribed to services from Vodafone. The number of fixed customers purchasing a combined package grew by 286,000 to 1.3 million households. The number of mobile customers purchasing a combined package grew by 541,000 to 2 million customers.

It is fantastic to see that our customers have embraced and appreciate the combination of fixed and mobile in such great numbers. In 2019, moreover, they were introduced to a new viewing experience, whereby we combine the Mediabox Next with the popular Ziggo GO app. Innovation remains high on the agenda!
Marcel de Groot
Executive Director Business-to-Consumer
Mediabox Next and Ziggo GO
The number of customers who ordered the new box was greater than expected. In de first three months post introduction, more than 300,000 were delivered to customers. The Mediabox Next is smaller and far more user friendly than its predecessors. The device uses the internet and therefore doesn't need a hard drive to record programmes. The Mediabox Next offers a new viewing experience: it's now possible to watch a programme on a television set and then to continue to watch on a laptop, tablet or smartphone using the Ziggo GO app. Customers can watch, record and review TV programmes anywhere. Before launching the Mediabox Next, we tested it extensively among customers and colleagues. In addition to offering a better viewing experience, the new mediabox uses less power, is quieter and more pleasant to use. We package the media box using fewer materials, almost all of which are suitable for reuse. Initially, we wanted to offer all our customers the Mediabox Next, but in the light of the mediabox's huge popularity and the fact that procurement and installation are relatively costly, we chose a different option. Customers subscribing to Internet & TV Max or Internet & TV Giga receive a Mediabox Next and other customers receive a software update for their Horizon mediabox, which has almost all the functionality of the Mediabox Next.
Our customers have access to our broad range of entertainment through the Ziggo Mediabox and Ziggo GO. They appreciate these for their quality and great diversity. We offer more than 170 channels in the standard package. Customers who subscribe to Ziggo Movies & Series (XL) receive approximately 250 movies, including documentaries and more than 70 exclusive series. At the start of 2020, Ziggo had approximately 6,000 episodes live. A large number of them come from HBO (including Game of Thrones, Billions, The Rook and Vikings). In addition, these customers have 40 extra channels to choose from, including BBC Entertainment, Discovery Science, Love Nature and E! Entertainment.

Game of Thrones broke all records with its final season. The epic end of this HBO series was the most-watched season ever. Ziggo organised a finale-screening for fans at more than 20 Pathé cinemas. Thousands turned up at the cinemas to watch the final episode together.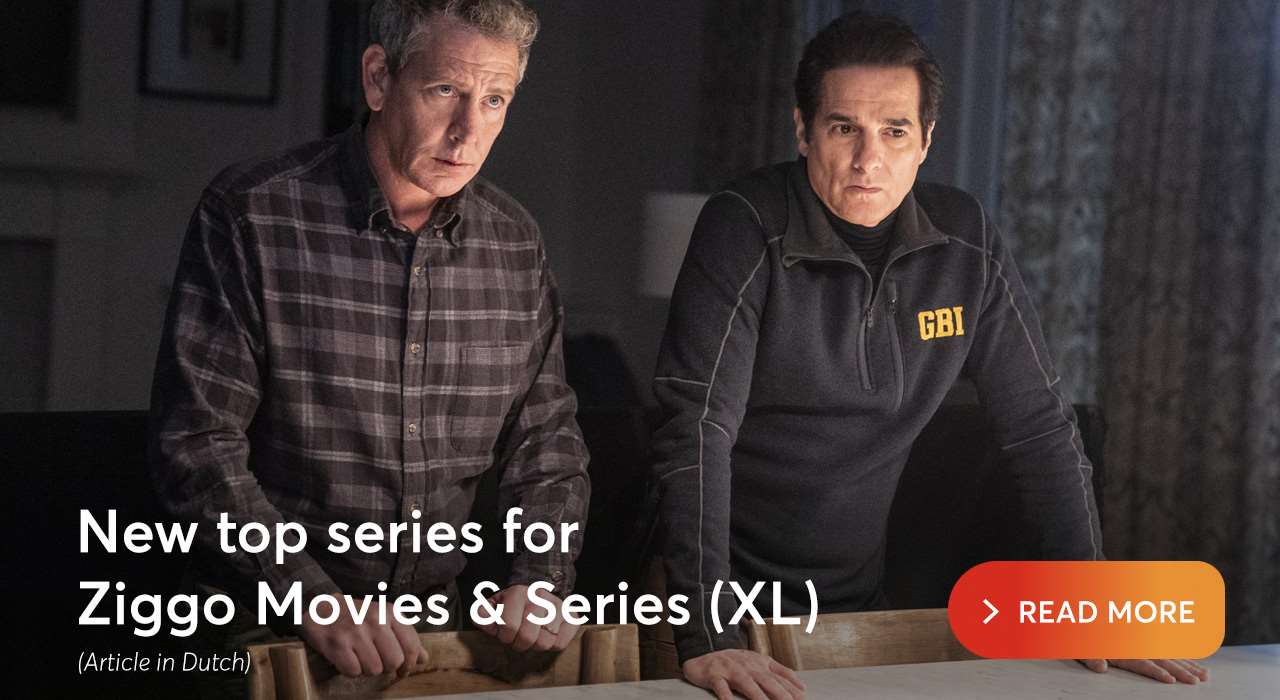 Ziggo Sport owns the TV rights to Formula 1 in the Netherlands. The race-weekend's programming was extended significantly again this year: Free Practice and a talk show on Fridays, Qualifying on Saturdays and the Race on Sundays with an extensive preview and review give fans the ultimate Formula 1 television experience. On top of that, 10,000 customers watched the Grands Prix of Austria and Mexico live in the Ziggo Dome.

The Austrian Grand Prix on television was the most-watched GP of the year, attracting 1.6 million viewers. Ziggo has announced that the Zandvoort Grand Prix will be free to watch throughout the Netherlands.
To assure our customers of a good data connection, we offered them the Power Promise, just like in previous years. We promise them that the Wi-Fi coverage in their home will always be good. We help new customers, customers who move house and customers who get a different media box or modem with installation. Using the Wi-Fi Assistant-app, customers can themselves draw a map of the Wi-Fi situation in their office or home. The app advises them on how to improve the Wi-Fi signal. If necessary, our technicians install a Wi-Fi booster to achieve optimum Wi-Fi throughout the home.
The VodafoneZiggo Experience Centre is a dedicated area in our offices in Utrecht where customers, employees and other target groups can get to know our company. We use text, images and experiences to present what VodafoneZiggo does and why. During interactive sessions, we explore the needs of customers' organisations. We show them the possibilities offered by VodafoneZiggo and go through the rapid current and future developments together. We look at where they want to be in five years' time and what steps they need to take to get there. During workshops and customer journeys, we translate their objectives into specific technological solutions for their business. New colleagues come to experience how we put our customers at the centre of everything we do. We also pay a lot of attention to VodafoneZiggo's objectives and values, as well as our culture and the way we work together. We teach children about social-media awareness, internet safety and the importance of privacy. We also take a look into the future with them. For example, what kind of jobs will be disappearing due to digitisation and what kind of new jobs will be created.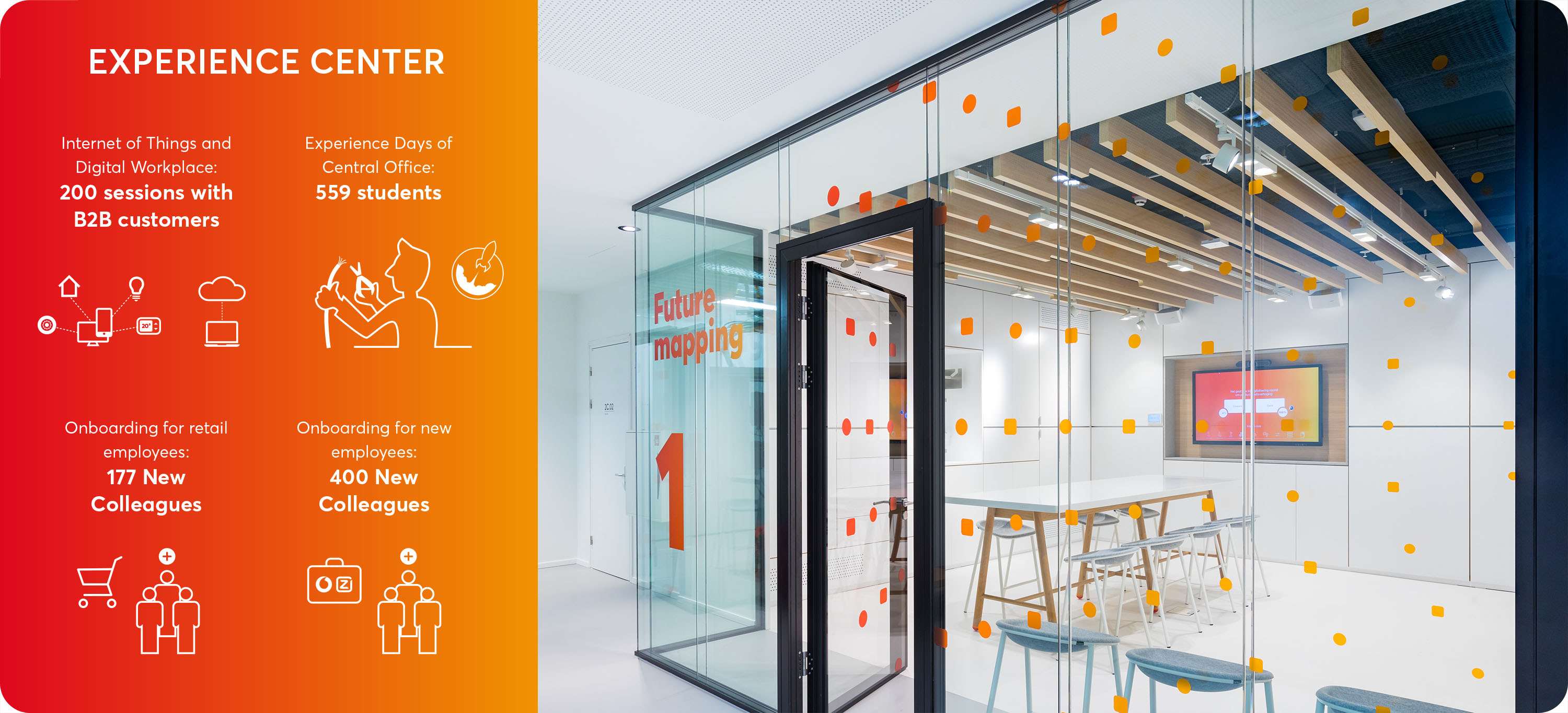 In May 2019, VodafoneZiggo launched Vodafone Flex, a new platform with which businesses can set up a company network safely and reliably within 24 hours. Customers can do everything themselves swiftly and with ease. They choose the services they require, like an option for their employees to work from home, or super-fast Wi-Fi at their workstations. They set their data limits themselves, too.
New employee profiles can be created within a matter of minutes, and a 'pop-up store' in a day. Increasing a data limit takes one minute. Users have access to network-performance and usage data at any time and place. They know, for instance, precisely how much bandwidth each individual application occupies and can monitor and control power and data use.
Flex is more efficient than traditional network systems, and therefore more sustainable. Companies choose to make a lot of bandwidth available during the day only, for instance, and to reduce bandwidth in the evenings and at night. Less bandwidth means less power consumption and vice versa.
VodafoneZiggo is the first company in the market to offer this option, meeting business customer demands w.r.t. manageability, flexibility and insight into their networks.