Sustainable Business Practices
A better environment starts with you. That's why VodafoneZiggo does business as sustainably as possible. We provide products and services that contribute to a better living environment and we constantly develop our environmental policy. This policy covers more than fifty different projects and has the ISO 14001 certificate, the international standard for the development and implementation of an effective environmental policy.
Our environmental policy has the following focal points:
We are constantly improving our operational activities
We do this, for example, by taking energy-saving measures, doing business in a more circular way and reducing waste flows.

We enable our customers to become more environmentally friendly
We do this, for example, by buying back used telephones and giving them a second life. We also encourage 'flexible working' (which results in less travel) and the use of environmentally friendly IoT solutions.

We encourage our people to work and live in an environmentally conscious way
We do this, for example, by allowing them to travel inexpensively on public transport and limiting travel between our offices by using video conferencing and other remote communication tools.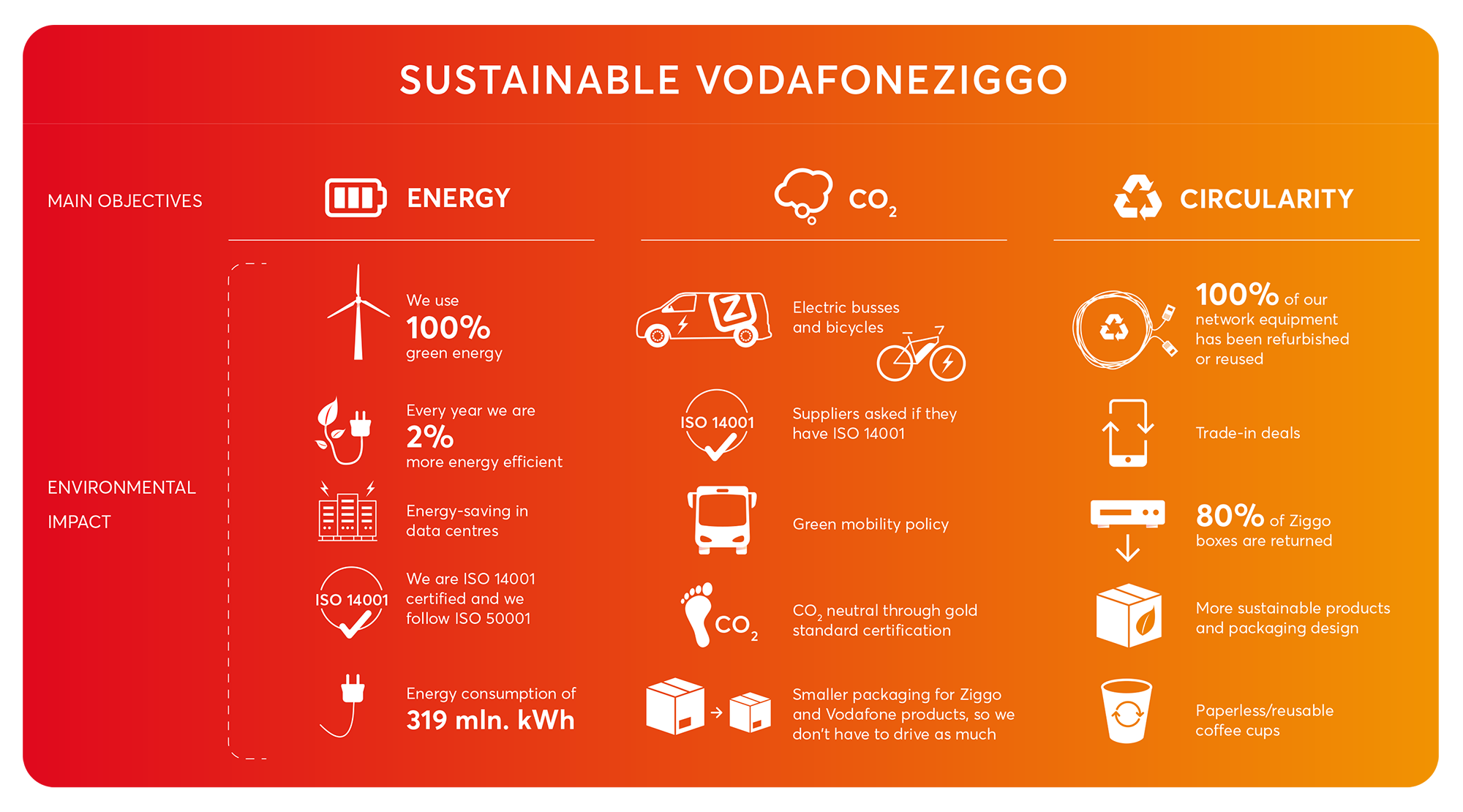 All the energy we use is 100% sustainable. We only use energy generated by European wind turbines. We also comply with important international rules like the European Energy Efficiency Directive (EED), the Long-Term Agreement on Energy Efficiency (LTA), the international standard for energy management systems (ISO 5001) and the international standard for environmental management systems (ISO 14001).
We select the most energy-efficient equipment and software for our GigaNet. By doing this, we keep the energy consumption of our ever-growing network stable. We write our own software codes to further automate our network. This brings energy saving to a higher level.
At night, we disable the 3G network in large parts of the country. When the demand for capacity increases, the intelligent network switches on again automatically.
Smart Grid

The tests that we are currently conducting with 5G include research into how 5G can support a smart grid. This is a power grid that automatically adjusts the energy from different sources to the demand using digital measuring and control equipment. For example, if the solar panels on a house generate electricity all day, but the residents are on holiday, the unused portion goes to the neighbours. And vice versa. Or the residents' washing machine only switches on when the sun shines. Our Internet of Things is an indispensable link in bringing the energy management of homes to a higher level.
In 2019, we used new technologies to make better use of the surplus heat from our data centres.
Our new products are becoming increasingly more sustainable and energy efficient. A good example of this is the Mediabox Next, which we introduced in 2019. This allows customers to record and play from the 'cloud' - remotely - and no longer on a hard disk in the device. As a result, we need fewer materials to make a media box and we ensure that the media box becomes smaller. In addition, this reduces energy consumption for most customers.

VodafoneZiggo is at the heart of society. That role involves responsibilities. In addition to offering good products and services, the Netherlands can expect much more from us. For example, we work 100% CO2 neutrally and we use green energy. Our aim is to provide enjoyment and progress with every connection. Together, we at VodafoneZiggo achieve this in a responsible manner. I am very proud of this.
Barbara Jongerden
Executive Director External & Legal Affairs
VodafoneZiggo strives for a CO2 neutral operation and encourages business customers to do the same. In addition to the electricity consumption of our organisation, we have an impact on the environment through the use of gas, coolants and business trips and commuting, among other things. We are continuously trying to reduce the impact of this. We are compensating the CO2 emissions that remain with Gold Standard certificates, the strictest standard for CO2 reduction projects.
We have opted for a mobility policy in which as many of our people as possible travel by public transport. This has led to a decrease in the number of lease cars and an increase in the number of colleagues travelling by public transport. This significantly reduced fuel consumption and CO2 emissions.
The car is indeed an indispensable means of transport for a number of jobs, for example, for service technicians who have to be on site quickly when problems arise with the network. Or for sales managers who travel throughout the country.
We're encouraging lease drivers to participate in the 'green driving' pilot, where the leasing company equips cars with a chip that analyses driving behaviour and fuel consumption. Based on that information, the lease driver receives tips, causing him to drive differently and ultimately reducing CO2 emissions and increasing road safety.
For the technicians who drive from customer to customer in delivery vehicles and vans, we are opting for environmentally friendly cars, seeking a balance between energy efficiency and practical utility, since our technicians must of course be able to store all their tools and materials. In addition, for many electric vans, given the long routes and tight schedules of mechanics, they cannot drive far enough without charging.
Read more about mobility in this annual report.
VodafoneZiggo wants to reduce the CO2 emissions from work-related travel in the Netherlands by making more and better connections, so that people more often communicate virtually with each other. By increasing the quality of online connections, more people will choose to do this. In addition, we believe that the rise of virtual reality (VR) will influence travel behaviour. For example, people can take VR lessons or even 'travel' to a distant destination. The development of our GigaNet plays a key role in this, especially if the speeds increase to 10 gigabit per second in the near future.
At VodafoneZiggo we like to lead by example. We have reduced the number of office locations from 17 to 9. We have provided video conferencing equipment for all meeting rooms, making it easier to meet remotely. This has reduced the number of travel movements between our offices. Because many colleagues are now working flexibly, 100 people share an average of 70 desks. In this way, better use of the space is made in our locations and less cubic meters are left to heat or cool.
VodafoneZiggo is participating in the transition to a circular economy - an economy in which we give products a new lease of life, recycle raw materials and encourage people to use products for longer. We're contributing to this in various ways. The products we offer use increasingly less energy, consist of fewer components and can be used for longer. We produce less waste and reuse a large part of our materials.
We're encouraging customers to return used equipment to us so that we can reuse or recycle it. The media boxes, modems, routers and WiFi boosters provided on loan are collected at the end of their lifespan. We make it easy for customers by ensuring free shipping and environmentally-friendly packaging materials. In our logistics centre in Venray, we look at which of these devices we can still reuse. We fix and update these devices, after which they can last for years. In 2019, 80% of the aforementioned devices were returned to us.
Customers who purchase mobile products from us can always return them. We offer them a financial incentive to sell their old smartphones back to us. See vodafone.nl/next and vodafone.nl/inruildeals.
Since 2019, in our logistics process, we have been using biodegradable materials to fill empty spaces in boxes. As from 2020, we will be further reducing the amount of packaging materials by ensuring that there is less empty space in boxes. In addition, we no longer package boxes in other boxes when we send products to customers. As a result, a large part of the packaging material that we used previously disappears. Because we package our products smarter, we can fit 20% more packages on a pallet. This means our carrier PostNL can reduce the number of driving trips, which is good for the environment.
Within our own organization we strive to recycle all discarded equipment. Desktops, laptops, batteries, smartphones, tablets, keyboards, printers... nothing goes into the rubbish bin. The devices go to recycling companies, where they prepare the equipment for reuse or for sustainable processing into other products and raw materials.
We work paperless as much as possible at our offices. As a rule, we send messages electronically to customers, suppliers and other stakeholders.
We drink our coffee from environmentally friendly cardboard cups, which are 100% recyclable. After use, we collect the cups and have them processed into raw materials for new tissues and napkins. The coating of the cups can be reused in the form of plastic products. In this way, we save 194 kilograms of CO2 per 1000 kilograms of coffee cups. We collect the coffee grounds and they are used to grow oyster mushrooms.