Working at VodafoneZiggo
We are an attractive employer and we want to stay that way. Therefore, we are investing heavily in our people, our culture, our office environment and technology.
We use two basic principles in our way of working: focussing on results and mutual trust. In this way, we continue to work well and effectively with each other, in a time and a world that is becoming increasingly more dynamic, more demanding and more complex. We trust that everyone can bear this responsibility and we support our people as fully as possible in this.
We ask for flexibility from our people in order to go that extra mile and to be available when needed. We support our people in creating a good work/private life balance with the opportunity of flexible working.
We are working more and more in an agile manner. This agile method makes it possible to respond quickly and effectively to the wishes of the customer and changes in the market. This means that about 20% of our people in the business-to-business segment work in cross-functional teams or squads, and some 25% of our employees in the consumer market. 
These teams of eight to twelve colleagues work autonomously and decide for themselves how they carry out a specific assignment, such as designing and improving products and services. They take on tasks in so-called sprints - a fixed period of time of two weeks. At the end of the period, they evaluate what went well and what could be improved. Agile coaches support the teams in this.
Research shows that people who work independently and have more say in their work are more satisfied. Satisfied people better serve their customers, which also increases customer satisfaction - a true win-win situation.
Incidentally, the entire organisation does not work in agile teams. It has to align with the type of work that we do.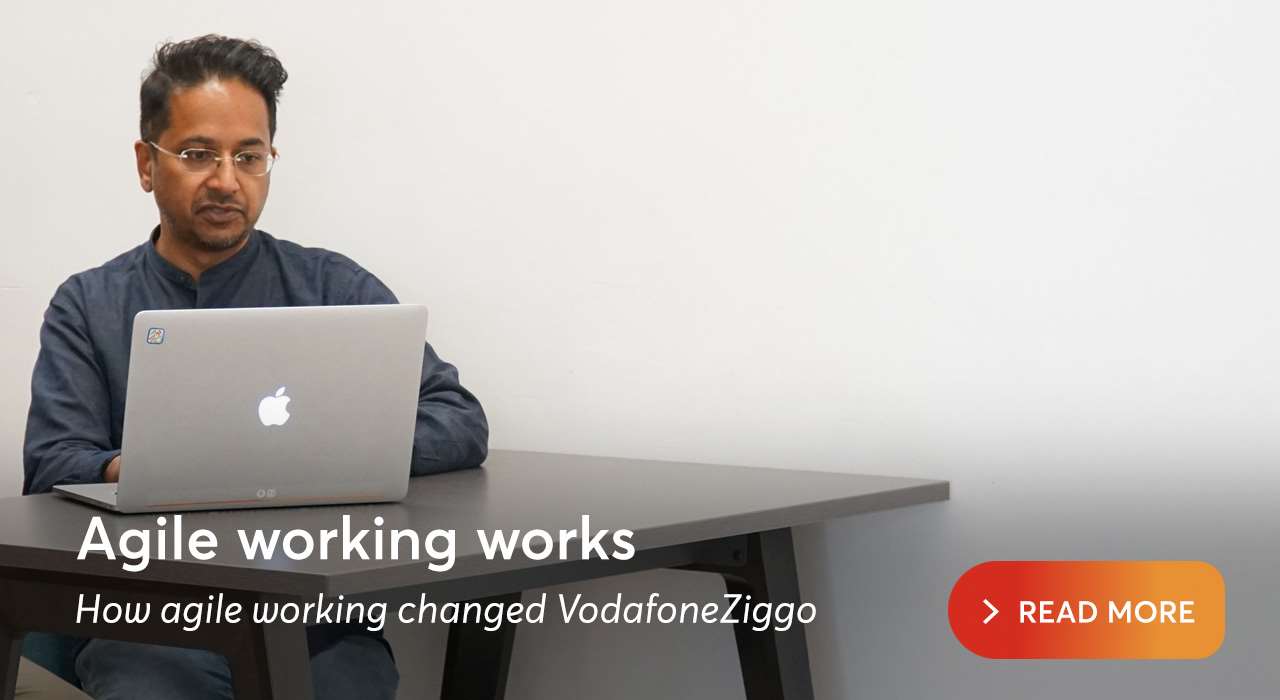 Harmonization of Employment Conditions
Arriving at just one package of employment conditions for all our people was an important step in the integration of Vodafone and Ziggo. We went from two employment condition packages with major differences to a single package for everyone. It ensured that we now reward all colleagues for the same work in a similar way. We removed the differences and ensured clarity about the employment conditions that apply to a specific position. We started this process in 2018 and completed it in July 2019. More than 40 rounds of negotiations with social partners were needed to arrive at a new collective bargaining agreement with good social provisions and a new set of sectoral regulations.
The new package of employment conditions has a high degree of freedom of choice, where extra effort is rewarded. Among other things, our people can buy extra days off, opt for extra pension contributions, save for a sabbatical, purchase a bicycle in a tax-friendly manner or exercise at a discounted price. All our people (to whom the VodafoneZiggo collective bargaining agreement applies) now come under the same job evaluation system. This system consists of four pay lines (one per job cluster). There is also a new pension system, which consists of an available premium scheme where every colleague builds up a good pension and has the option of making additional contributions. With the new, attractive employment conditions, we want to retain talent and bring in the best talent on the labour market.
We want our people to be and remain relevant to the organisation and the labour market. We want them to be flexible and move with what our customers and the market demand. We support them so that they can be successful in their personal development and that of their team and the organization. They are given the opportunity and support to develop in terms of content, competencies, leadership and sustainable employability. The learning process takes place as much as possible in the workplace and consists of the implementation of challenging projects in collaboration with others, wherein colleagues provide feedback on each other's actions.
The emphasis is on the development of the individual. We want everyone to get the best out of themselves. We give our people the space to learn relevant skills and to continuously develop themselves. We don't tell them where they should develop. Each colleague is responsible for their own career plan.
Since March 2019, our people have access to a joint online learning platform 'Progress for You' to develop their skills. Learning topics include personal leadership, effective communication, collaboration, innovation and analytical thinking. In addition, programs are underway that include them in the digitisation process of our organisation, such as data-driven, agile and customer-oriented working.
Because everyone learns differently, our people select the training method that suits them best, such as online courses, apps, podcasts and videos in English or Dutch. Some training courses are compulsory for all colleagues, for example on topics such as ethical conduct and safety. Our people follow other training courses according to their own needs. Our extensive catalogue of more than seven hundred training courses offers a range of subjects, including coaching leadership, data visualization and storytelling. There are job-specific training courses for colleagues who deal with customers - these involve technicians, sales managers and colleagues who work in shops and call centres.
We supported the introduction of 'Progress for You' with a few events to promote our new learning culture. In July and August 2019, for example, we organized the Summer Boost, an internal training programme in which colleagues with special stories shared their experiences and knowledge with other colleagues. Topics included mindfulness, visualizing goals and learning from the mentality of top athletes.
We like to involve our people in our commitment to a digital society in which everyone has the same opportunities.
For many people, both young and old, participating in the digital society is by no means self-evident. VodafoneZiggo is committed to ensuring that everyone develops digital skills. We have therefore developed several programs to support young and old alike: Online Masters, Experience Days and Welcome Online. We offer employees the opportunity to volunteer for one of these programs during working hours. They can contribute as a teacher, coach or a helping hand. The online platform Step Up for Good has been made available since October 2019, where they can register as volunteers.
We organize sporting events such as the Connect Run, which allowed us to raise money for the foundation Kind en Ziekenhuis (Child and Hospital foundation) in 2019. This is a patient organisation that advocates medical care, which takes into account the needs of children, such as taking fear seriously and preventing pain.
Our sports committee organizes various sports activities for our people, such as running and mountain bike clinics. It also facilitates participation in sports events. Our colleagues participated in the 4 Mijl van Groningen (Groningen 4 mile run) and the Singelloop (Canal run) in Utrecht. We also have a mixed hockey team and a footy team.
We offer a great place to work. Not only because of our products and services, but also because of an office that's focused on the latest ways of working. A place that serves as a basis for all colleagues and where you can safely and pleasantly work together. A place that is sustainable, dynamic and smart.
Our working environment is aimed at stimulating various types of activities and forms of consultation that people have during the day. We want the way of working within our organisation to give our people the energy to keep moving, so that they develop personally and can optimally contribute to our business goals. We make use of the human and technical qualities that we have. Consider, for example, video conferencing, Skype and a cloud environment so that we can work well and efficiently with colleagues - in all locations.
We work from nine office locations in the Netherlands, with two hubs in Utrecht and Maastricht. Our offices are located as centrally as possible so that they are easily accessible and colleagues and guests can reach us by train. We ensure that there are enough places to work flexibly. When designing the Central Office in Utrecht, we created a vital environment and a comfortable and enjoyable workplace. In 2020, we're building a new hub next to the Central Station in Eindhoven. We designed the building entirely according to the wishes for flexible and agile working. The office will be ready for use at the end of 2021.
New colleagues are welcomed with a special introduction programme. This is an important means of quickly making them feel part of the VodafoneZiggo family. New colleagues get to know our people and organisation during this programme. In a short period of time, they are given the feeling that they really belong - the basis for being able to function well and to work with pleasure.
In the first two working days, the new colleagues are introduced to the code of conduct, culture, value, mission and products of VodafoneZiggo. They spend a day in a call centre and visit one of our shops. They learn that every position and every individual in the organisation is equally important. They visit the TEC Campus and the Experience Centre, where they experience how we put our customers at the centre of everything we do. They participate in an 'onboarding' day for all new starters of that month.

Changes to our IT processes have ensured that new colleagues can get to work faster. 77% of all new colleagues already have the equipment and resources to get started on the first day, such as a laptop and an access pass. In 2018 this was still 51%. A special Onboarding Desk with people from HR and IT supports the new employees.
In 2019, a total of more than four hundred new colleagues went through our onboarding program. The result is a close-knit group of people who always know where to find each other and who can work well together.
Talent determines the success of VodafoneZiggo. That's why one of the programs we have been offering for many years is the Discover Traineeship. The purpose of this program is to give talents extensive knowledge of our company and our people for a year and a half, wherein we challenge them to learn and grow quickly within a dynamic company like ours. Trainees work on three different projects during this period. Two of them take place within the business unit to which they have applied for a job and one within another unit. In this way, they discover multiple facets of the organisation and we challenge them to step out of their comfort zone. They take part in multiple sessions with a trainer-coach in order to work on their personal development. They also follow various workshops and training courses. A line manager supports each trainee throughout the year.
We select those trainees who we believe are the innovative talents that can shape our company now and in the future. That is why every candidate receives an extensive assessment, in which we look at experience, knowledge and growth potential. In 2019, more than 750 people applied, of whom 42 eventually started as trainees.
| | | | |
| --- | --- | --- | --- |
| | Target 2020 | 2019 | 2018 |
| Totaal Discover trainees hired | 50 | 42 | n/a |
In 2019, our managers - about six hundred men and women - followed the VodafoneZiggo Leadership Journey. This leadership program focuses on the transformation from managing and controlling to delegation and coaching. The key objectives are:
the development of personal leadership qualities

building an informal network of managers

stimulating the desired organizational culture

connecting to our mission in all activities
This included being done in 360° feedback sessions, where the managers gained insight into their qualities and points for development. During the Leadership Event all managers came together for inspirational sessions with themes such as enjoyment, progress and connection.
We introduced the Leadership App, a digital game that challenges the player every day in terms of leadership behaviour. The focus here is on self-reflection and the application of newly acquired skills, such as discussion techniques, coaching and giving feedback. The Progress for You platform offers e-learning sessions that managers can follow voluntarily, with topics such as team performance, self-development and energy.
As part of the digitisation of our organisation, we developed a curriculum for agile and data-driven work. We also carry out an ongoing dialogue about the meaning of our values.
In order to determine whether managers are performing their work well and to stimulate and motivate their teams and people, the Heartbeat survey is of great importance. This survey also includes questioning our people about their supervisors. If they get a low assessment from their team, we then talk to the managers to see what they need in order to improve the development of the teams.
We want to substantially reduce the number of travel movements between the various VodafoneZiggo locations. For this we need more than just good technical facilities. We are also investing in the organisational culture, so that our people feel more comfortable when working and meeting remotely. By gaining experience with these techniques, they become increasingly familiar with it.
We adjusted our mobility policy to further reduce the ecological footprint of our activities. To encourage the use of public transport, we gave most people the choice of different types of rail season tickets. The majority (51%) chose the 'full public transport' option: a first-class rail season ticket, including free private use. More than 120 lease drivers turned in their cars early to make the switch to public transport. In 2019, our people travelled over 30.5 million kilometres by train.
Our choice for a central location of our Utrecht office - located next to Central Station - appeals to young talents, who like to work in an easily accessible place near shops and opportunities to grab a snack or drink with colleagues.
We are taking important steps towards a greener vehicle fleet. For colleagues who are often on the road - such as technicians and sales managers - we came up with a new lease arrangement. This is designed to offer electric and hybrid cars at attractive conditions. We made twelve hybrid shared cars available at the various office locations, which our people are able to use for business trips.
Over the coming period, the focus will be on improving policy, including further encouragement of bicycle use.
| | | |
| --- | --- | --- |
| | 2019 | 2018 |
| % employees with an unlimited travel train card | 51% | 51% |
The satisfaction survey among our people (the Heartbeat survey) showed that many colleagues often experienced a high workload this year. We saw this in a higher sickness absence rate of 5.42%. We are investigating what the causes are and how we can invest in prevention, health and vitality.
In 2019, we already started to focus on absenteeism guidance. Our managers now know better what to do when an employee is home sick. They are receiving support from a team of specialists. In the course of the year, we saw that sickness absence decreased.
In response to the preliminary results of the Heartbeat study, we have already defined some actions for 2020. For example, our people receive a discount if they go and exercise. We are improving workplaces by making adjustments to our buildings. In our Groningen office, for example, we placed some plants and made desks suitable for both sitting and standing. At several locations we investigated how we can structurally improve the indoor climate. We are also investing further in our leadership programme, wherein we see an important role in giving appreciation. Lack of appreciation appeared to be a key theme among many colleagues.
After we had created a single employment conditions package for all our people, it was also a logical step to create a single Works Council. Previously, both Vodafone and Ziggo had their own Works Council. The merger into one joint council of 25 members makes coordination between the organisation and the works council more effective and the work for the works council more transparent. The elections for the new Works Council took place from 12 to 17 September 2019.
| | | |
| --- | --- | --- |
| | 2019 | 2018 |
| Total FTE | 6,696 | 6,656 |